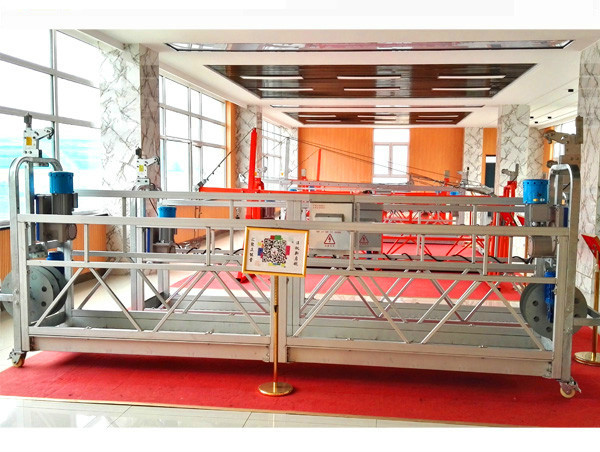 Quick Details
---
Place of Origin: shanghai, China (Mainland)
Brand Name:SUCCESS
Model Number: ZLP630
Usage: Building facade cleaning
Colour: Red or other colors
Certificates: ISO, GOST, CE
Power Source: Electricity
Drive Type: Wire rope hoisting
Application: Tall Building Maintenance
Lifting Speed:8-10m/min
Lifting Height and Cable Length: 100m
Voltage: 380V50HZ 3Phases
ZLP250, ZLP500, ZLP630, ZLP800, ZLP1000 Aluminum Suspended Platform
ZLP Special Shape Suspended Platform
A. Introduction of ZLP Aluminum Suspended Platform
ZLP series suspended platform belongs to electrical-driven climbing and decorating machinery, mainly used to decorate, maintain and clean the external walls of high-level buildings and exterior construction such as cement coating, veneering, installing the glass on curtain walls, painting as well as cleaning and maintenance. It also can be applied to the operation of big vessels, bridges and dams, etc.
B. Features of ZLP Suspended Platform
1. Safety rope and safety lock
When the platform tilts, the hoist system automatically acquires major faults; Meanwhile, the safety locks will block the wire ropes to ensure the safety of the operator and workers.
2. Combination of the bottom platform
According to customers' defferent requirements, the platform can be combined in different shapes such as U-shape, circle-shape, fan-shape, etc.
3. Convenient and reliable electric constrol system
The electric control system is equipped with protection switches; operators can choose single- machine operation or two machine operation system. It is equipped with movable operation box, external power box and up limitor which can prevent against going upward dangerously.
4. Reasonable designed structure and attractive appearance.
The steel structure applies thin-wall of rectangle steel pipe, compact and rational designed.
C. Advantages of ZLP Suspended Platform
1. Both the working height and the platform size can be adjusted on customer need.
2. The voltage and frequency can be changed according to different countries conditions.
3. The material of the suspended platform can be determined by customer: Steel or Aluminum Alloy.
4. The aluminum alloy suspended platform is 65% lighter than the same model of steel one.
5. The film of the ZLP suspended platform is anti-corrosion
D. Parameters of ZLP Suspended Platform
Modle

ZLP1000
ZLP800
ZLP630
ZLP500
ZLP250
Rated load(kg)
1000
800
630
500
250

Lifting speed

(m/min)

8.3+0.5
8.3+0.5
8.3+0.5
8.3+0.5
9.6+0.5
Platform Dimension (m)
7.5
7.5
6
5
2.5
Lifting Height(m)
100
100
100
100
100
Voltage(V)
380/220 etc
380/220 etc
380/220 etc
380/220 etc
380/220 etc
Frequency(HZ)
50/60HZ
50
50
50
50
E. Parameters of Common Used ZLP Suspended Platform
Name
Technical parameter

Model

ZLP800
ZLP630
Rated load
800Kg
630Kg

Lifting speed

8-10m/min
8-10m/min
Platform Dimension L×W×H(mm)Spray plastics corrosion-resistant
7500(2.5m*3)×720×1300
6000(1+2+3m)×720×1300

Lifting Height

100 m
100 m
Cable
100 m
100 m

Steel rope diameter(specially-made)

9.1mm
8.3mm

Hoist

Pulling power
7.84KN
6.17KN

electric motor

model
YEJ100L-4
YEJ90L-4
Power
1.8KW*2
1.5KW*2
Voltage
380V
380V
Rotational speed
1420rpm
1420rpm
Braking moment
15Nm
15Nm
Safety lock
Permission force of impact
30KN
30KN
Locking Cable Angle
3°~8°
3°~8°
Suspension mechanism(Galvanized )
Front beam overhang
1.3~1.5m
1.3~1.5m
Support adjustable height
1.44~2.14m
1.44~2.14m
Counterweight
1000kg
800kg
20'ft container
8sets
9sets
40'ft container
13sets
14sets
rope suspended platform safety
,
suspended platform cradle
,
suspended platform gondola
,
suspended platform hoist
,
suspended wire rope platform
,
suspended working platform safety
,
temporary suspended platform
,
zlp 630 suspended platform