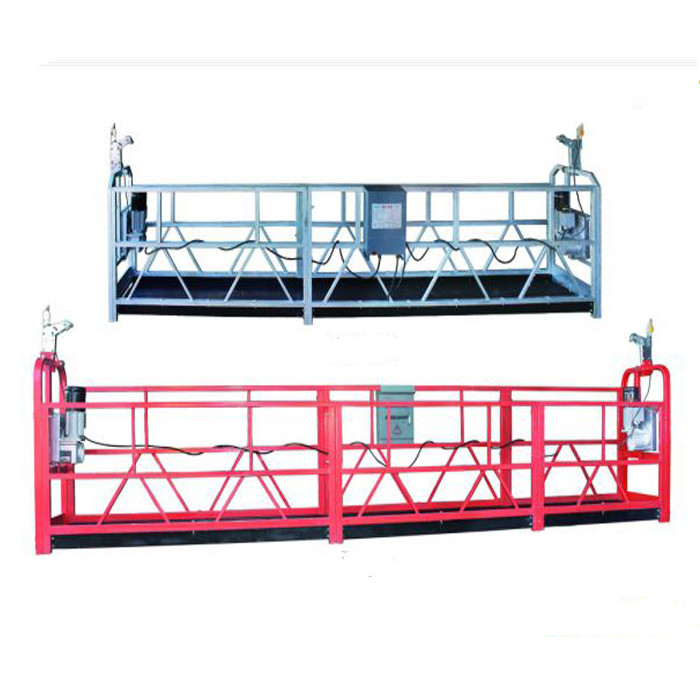 Quick Details
Place of Origin: Shanghai, China (Mainland)
Brand Name: Success
Model Number: ZLP
HS Code: 8428909090
Name: Platform Crane
Rated load: 630kg/800kg/1000kg
Lifting Height: 200m
Hoist Power: 1.5kw/1.8kw/2.2kw
Hoist Voltage: 380V/415V/440V
Cable: 200m
Counterweight: 1000kg
Lifting speed: 8-10 m/min
Treatment: Hot galvanized
Supply Ability
Supply Ability: 5000 Set/Sets per Year Platform Crane
Packaging & Delivery
Packaging Details
Platform Crane:
1-4sets/ one set for one wooden case-5cbm/set by LCL
more than 5sets / packed on pallets by FCL
20'container for 8sets with counterweight
40'container for 13sets with counterweight
Port: SHANGHAI PORT
Lead Time : 7-10 days according to customersneed
Factory Sale Window Glass Cleaning Platform Crane Cradle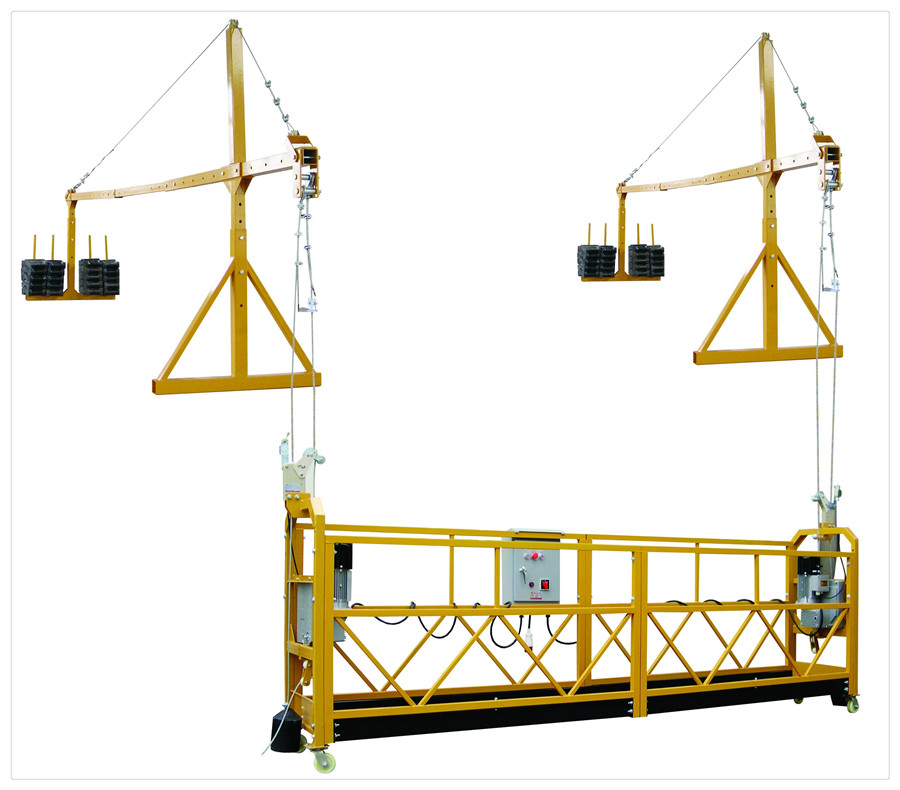 1. Working Principle:
The platform is driven by electric hoist and wire rope, running against the building facade while the suspension mechanism was erected on buildings or structures.
2. Usage and Application:
ZLP series Suspended Platform belongs to high-rise working construction machinery, mainly used to install curtain wall, facade cleaning or other works such as plaster pulp, veneer, paint coatings,oil paint,or cleaning and maintenance, etc., can also be used for large tanks, bridges, dams and other construction operations.
Applying this product can release scaffold free, reduce the costruction cost (cost 28% of tranditional scaffolding)and the efficiency will be greatly increased. Mean while, this products are with simple and flexible operation, easy transfer, convenient and practical, safe and relible.
3. Standard parameter for Suspended Platform
Model

ZLP1000
ZLP800
ZLP630
ZLP500
ZLP250
Rated Load (kg)
1000
800
630
500
250
Lifting Speed (m/ min)
8.3+0.5
8.3+0.5
8.3+0.5
8.3+0.5
8.3+0.5
Platform Length (m)

7.5

7.5
6
5
2.5
Standard lifting height (m)
100
100
100
100
100
Steel rope
9.1
8.6
8.3
8.3
8.3
Rated power
2.2x2
1.8x2
1.5x2
1.5x2
1.5x1
Voltage
Standard: 380V/50HZ/3Phase; Customized: 110~440V
Frequency
50
50
50
50
50
Counterweight
25*48pcs
25*40pcs
25*36pcs
25*30pcs
25*16pcs
4. Structure of Suspended Platform
Five main structure: (1) Platform (2) Hoist Assembly (3) Satety Device (4) Electric System (5) Suspension Mechanism
Advantages:
Platform length varies from 1 m, 1.5 m, 2 m, 2.5 m, to 3 m range. Customers can assemble them free as required.
End frame: the first factory adopts raglan welding treatment. Secure, greatly enhancing the strength and safety of the platform.
(2)Hoist Assembly
Each end of the platform install one hoist.
The outer housing of hoist is die casting aluminum(104# Gb) material, not easy to crack. Rope pressure sheave is made of spring steel; turbine is made of 94# tin bronze. All above materials except turbines, are with heat and black oxide treatment.
Features:
LTD series new type repairable hoist is a latest product researched and developed by our company after kinds of test. It was proved can be self repair from the wire rope's force-deformation, bending, breaking and continue to use. This feature make it greatly increased the wire rope's working life.
(3)Satety Device
Safety lock and safety wire rope: Each end of platform install one safety lock and safety wire rope. In case the work wire rope or platform tilted, the safe wire rope would be locked to stop platform moving.
Safety rope (life line): 18mm diameter,is made from high strength filament,connect with worker. When the platform rapid decline due to a fault, the Safety Rope would tighted to prevent people falling.
Limit Flanges: prevent platform upwardreach the highest level;
Hoist brake electromagnetic brake:keep the platformsuspended in the circuit failure or power outage.
Centrifugal speed limiting device:ensurethe platform descendedspeed no higher than 1.5 times of the rated lifting speed, keeping the platform more stable.
Manual hoist downhill device:in case of power failure or electrical failure, operate the manual to make platform decend, and keep workers'safe landing.
Electrical emergency stop: press button, main power and control power off, stop platform moving.
The world FIRST newly Intelligent Mold Control Box
for suspended platforms,
1)auto stop and alarm when overweight.
2) water proof.
3) working condition temperature -45°C to 80°C
4)safe and reliable with 1 year warranty.
(5)Suspension Mechanism
Erected on the building roof, composed of two independent steel frame and steel wire rope components. Each front beam of the steel frame hang two wire ropes, a work rope for hoist, a safety rope for safety lock.
Advantages:
Wire rope: hot-galvanized, special use for suspended platform, high strength, good corrosion resistance, Fasten brand.
Front and rear beam specification 50 * 110mm, thickness: 3.75mm; Middle beam 60 * 120mm, thickness: 2.75mm. The rectangular steel is with higher tensile resistance than the square steel.
Suspension Mechanism height: could reach as high as 1.98m.
Adjustable total length of the front/middle/rear beam is from 5.2 to 7.6 m, suitable for varies kinds of complex floors.
Suspension Mechanism parts adopts galvanized treatment, with higher corrosion resistance than the painting treatment.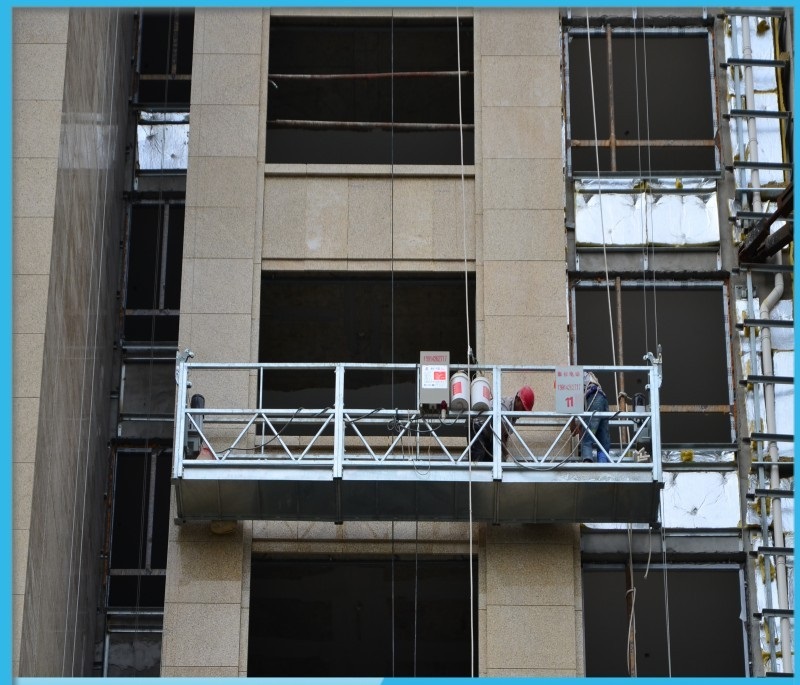 rope suspended platform safety
,
suspended platform hoist
,
suspended scaffold platform
,
suspended wire rope platform
,
suspended working platform safety