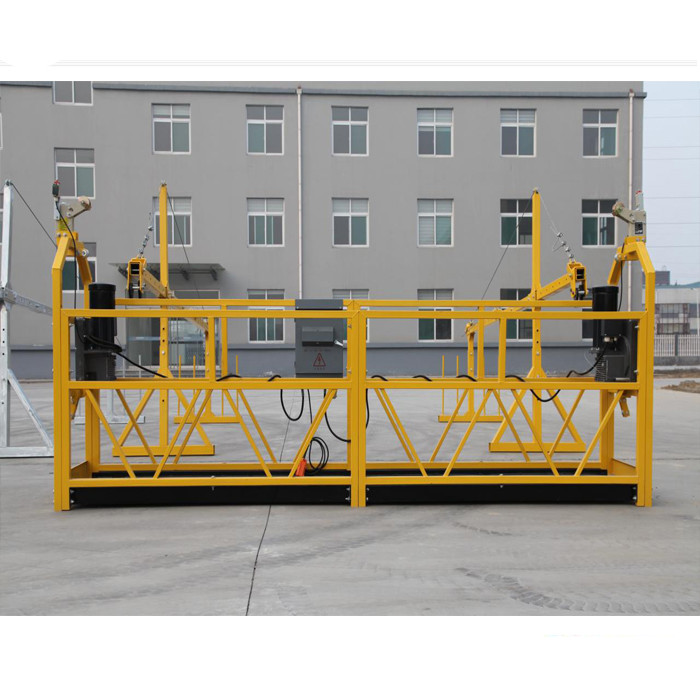 Parameter
---
Working Principle:
The platform is driven by electric hoist and wire rope, running against the building facade while the suspension mechanism was erected on buildings or structures.
Usage and Application:
ZLP series Suspended Platform belongs to high-rise working construction machinery, mainly used to install curtain wall, facade cleaning or other works such as plaster pulp, veneer, paint coatings, oil paint, or cleaning and maintenance, etc., can also be used for large tanks, bridges, dams and other construction operations.
Above all. HUIYANG Platform can increase the efficiency greatly, with simple and flexible operation, easy transfer, convenient and practical, safe and reliable.
Specifications For ZLP800 7.5m 800kg Suspended Platform

6. Electric Control
Cabinet Components

4pcsx100m
4x31SW+FC D=8.3mm

4pcsx100m
4x31SW+FC D=8.3mm

4pcsx100m
4x31SW+FC D=9.1mm

410kg(Steel)
290kg(Aluminum)

480kg(Steel)
340kg(Aluminum)

530kg(Steel)
380kg(Aluminum)
1. Working Platform: Material Q235 Steel with Painting; Material Q235 with HDG; Material Aluminum
1.1 Working Platform is the workplace at heights for the workers.
1.2 Size of platform can be adjusted from 1.0m, 1.5m, 2m, 2.5 meter or 3m etc depending upon the needs of your building
1.3 With caster wheel fitted underneath, the platform is easy to move.
2. Suspension Mechanism: Surface with Painting or Hot-dipped Galvanized
Suspension mechanism is on the top of the building to suspend the platforms through the steel rope.
3. Parapet Clamps: Surface with Painting or Hot-dipped Galvanized.
When the parapet is strong enough, the above Parapet Clamps could be used directly.
4. Triangle Brackets: Surface with Painting or Hot-dipped Galvanized.
When the parapet is strong enough, the above Triangle Brackets could used directly.
Components Details
---
Components 1
Name: Hoist Brand: HUIYANG
Model: LTD6.3 Quantity: 2 sets
Lifting Speed 9.3±0.5m/min Lifting Force: 6.3K
Name: Motor Brand: Tianjin YONGHENG
Power: 1.5kw*2 Voltage: 3 Phase 380/220V 50/60Hz
Rotational Speed 1420rpm Weight:48kgx2
Components 2
Name: Safety Lock Brand: HUIYANG
Model: LSG20 Quantity: 2 sets
Locking Rope Angle 3°~8° Allow impulsive force 20KN
Steel Wire Diameter 8.3mm Weight:5kgx2
Safety Lock is the protection equipment. When the platform goes acclivitous, or ropes are broken off and falling, the safety locks will lock the wire ropes automatically and quickly to ensure the safety of the operator from falling and inclining.
Components 3
Name: Electrlic Cotrol Cabinet Brand: HUIYANG
Surface HDG With manual Switch
Components Brand: Schneider or CHNT
On Electric Control Cabinet, there are 4 buttons and a 220V
50Hz outlet for necessary use.
( Universal Switch, Power Indicator, Start Button and the Emergency Stop Button )
Components 4
Name: Steel Rope Brand: XINYU
Length=100m 4pcs 4x31SW+FC Diameter=8.3mm
Weight:25kgx4
Name: Nylon Safety Rope 1Pcs=100m
Name: Cable 1Pcs=100m (3x2.0+2x1.0mm2)
Name: Counter Weight: Cement or Cast Iron
Our Service
---
Pre-Sales Service
* Factory Show.
* Consulting Support
* Fast Quotation and PI Feedback
* Deposit.
* Sample testing support.
After-Sales Service
* Video Training: how to instal the machine.
* Engineer Online Service.
* Email Instruction.
All products purchased from our company are guaranteed to keep in good repair for one year. If quality problems happen in guarantee period, our company will maintain for free.
Quick Details
---
Place of Origin: Shandong, China (Mainland)
Brand Name: SUCCESS
Voltage: 220V/380V/415V
Usage: Safe Platform
Locking Rope Angle: 3°~8°
Type: Anti-inclined Safety Lock
suspended wire rope platform
,
suspended working platform safety
,
zlp 630 suspended platform
,
zlp 800 suspended platform