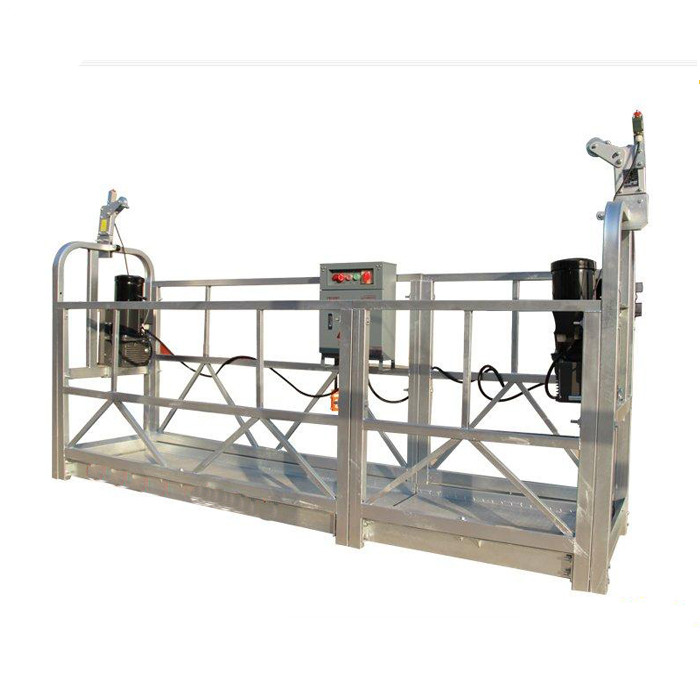 Quick Details
Place of Origin: Shanghai, China (Mainland)
Brand Name: success
Model Number: ZLP800
Material: Steel, Aluminum Alloy
Color: Red, Yellow, Blue, etc
Surface treatment: Powder coating, Hot galvanization
Length: 2m, 2.5m, 3m, 5m, 6m, 7.5m, etc
Lifing Mechanism: Gear
Lift Drive/Actuation: Electric Motor
Power: 1.5kw, 1.8kw, 2kw
Supply Ability
Supply Ability: 100 Set/Sets per Month ZLP Electric Construction/ Sky Climbe with high production
Packaging & Delivery
Packaging Details: CE/ISO-approved ZLP Electric Construction/ Building/ External Wall Suspended Platform/ Cradle/ Gondola/ Swing Stage/ Sky Climbe. Pallet, Plywood box, Steel strip, Containers available, according to the model and quantity.
20'ft container put 9 sets and 40'ft container put 12-14 sets.
Port: Shanghai Port
Lead Time : 10-15 days upon receipt of the payment
Breif introduction
The Suspended Platforms are designed as modular construction in order that it is possible to assemble any size in the range from 1.2 to 7.5 meters.
The supporting structure of platform is welded of quality steel profiles, the floor is made of aluminium sheet with antiskid surface. The connection of single parts of structure in the desired unit is carried out by strength screws. The platform is equipped with wheels for transfer on the construction site. The suspension beam is compounded, with adjustable overhang and with adjustable total length. It is designed both in a fixed or mobile version (according to client demand) and after removing the wheels in a fixed version. The deflection of suspension beam is reduced by a stiffening wire rope and the beam stability is secured on the specified value by means of weights.
- All steel parts of the platform and suspension beam are provided with hot-dip galvanized coat.
The drive of platform is ensured by a couple of drive units equipped in accordance with standard EN1808 with:
Overload detection device
Over-speed safety device
Safety device
Emergency manual descent
Top limit switch
Feeding by a trailing cable, with control box equipped with main switch, directional selector switch and mercury switch reacting to the platform inclination
- CE/ISO-approved ZLP Electric Construction/ Building/ External Wall Suspended Platform/ Cradle/ Gondola/ Swing Stage/ Sky Climbe: The equipment is designated for accessibility of building corners. Overhang is possible on one or both ends of platforms. The overhang is invariable and is 1 m long. Stirrup is applicable on either side of platform and it is possible to combine the suspension stirrup with the end suspension
Parts contains:
1. Suspended Cage: Steel or Aluminum Alloy (plastic coating or hot galvanization)
2. Suspension Mechanism: Steel (plastic coating or hot galvanization)
3. Electric hoists: LTD5, LTD6.3 or LTD8
4. Safety Lock: LSB30
5. Electric control box: Along with hoists
6. Steel wire rope: 8.3mm or 8.6mm
7. Power cable: 1.5mm²,2.5 mm², 4 mm² or 6 mm²
8. Counterweights: Cement or Cast Iron
9. Spare parts
Products photos: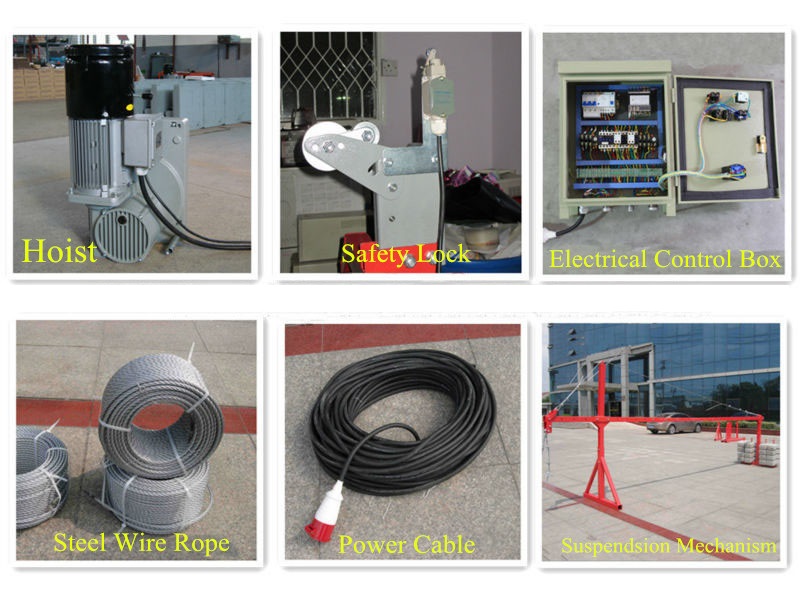 Application:
1. High-rise building: Decoration, construction for external wall, installation of curtain wall and external components, repairing, checking, maintenance and cleaning for external wall
2. Large-scale project: construction, repairing and maintenance for large tank, chimney, dams, bridges, derrick
3. Large ships: welding, cleaning and painting
4. billboard: installation billboard for high-rise building
Superiority:
1. We had already passed the authorization by ISO9001:2008 and CE and established a complete set of quality assurance system.
2. Under such a complete set of quality assurance systems, there is a complete set of regulations for ordering, order handling, quality design, purchasing raw materials, working out production plan, production, test and inspection, packaging, storage, delivering, trace, keep in touch with clients, etc.
3. The CNC control center and PC-based production and marketing system not only improves the working efficiency but also assures the products quality.
4. Our test lines are equipped with a large amount of online test instruments, so that they can ensure and improve the products quality.
5. We also have a complete set of equipment and techniques for testing and controlling the performance of products, which ensures our CE/ISO-approved ZLP Electric Construction/ Building/ External Wall Suspended Platform/ Cradle/ Gondola/ Swing Stage/ Sky Climbe quality to take a leading position among the fellow products at home and reach the international standard.
suspended platform cradle
,
suspended platform gondola