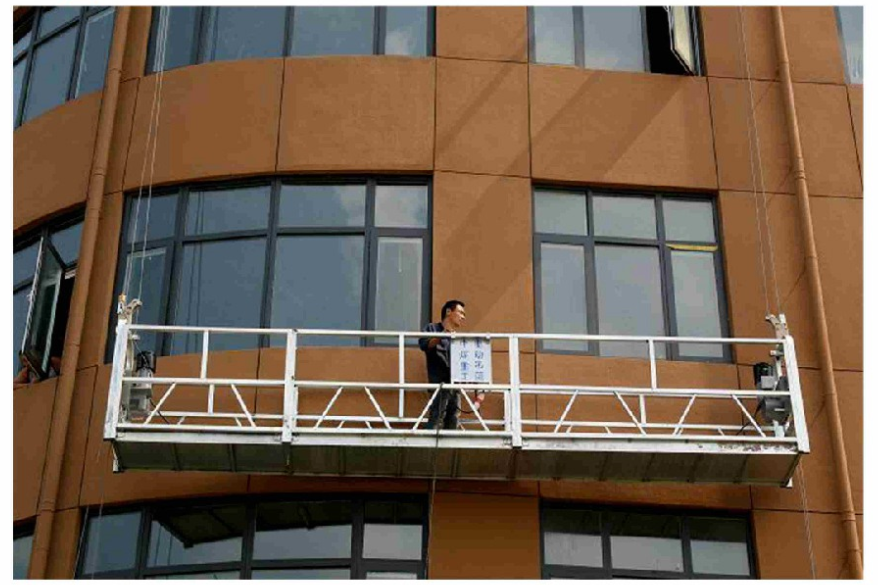 Quick Details
Place of Origin: Shanghai, China (Mainland)
Brand Name: success
Model Number: ZLP630/800/1000
Lift Mechanism: Steel wire rope
Lift Drive / Actuation: Electric Motor
Power: 1.5kw/1.8kw/2.2kw
Rated Loading Capacity: 630kg/800kg/1000kg
Min. Lifting Height: 10m
Max. Lifting Height: 120m
Table Size: 6*0.72*1.3
Overall Dimensions: 3*1.1*1.2m
Weight: 1800kg
Certification: CE Certificate
Warranty: 1 Year
Supply Ability
Supply Ability: 3000 Set/Sets per Year
INSTRUCTION FOR ZLP SERIES 630 SUSPENDD PLATFORM
Q1: What is the Warranty for suspended platform?
A1: For suspended platform, we can supply 1year's warranty. If any quality problems (not artificial reason)
Q2: What is the meaning of ZLP for suspended platform model? And please illustrate.
A2: ZLP is classified according to China National Standard.
"Z" is the acronym of decoration machinery in Chinese language (Zhuang Xiu Ji Xie);
"L" is the second word acronym of platform in Chinese language (Diao Lan);
"P" is the acronym of climbing type in Chinese language (Pa Sheng Shi).
For example: ZLP630 means aerial suspended platform, and 630kg rated load (630 is the main specification rated load)
Q3: What are the optional parts for your suspended platform?
A3:1) Big safety wire rope
2) Concrete counter-weight. (If you don't need the weights, we could supply the molds for you to make them by yourself.)
1. WORKING PRINCIPLE:
The platform is driven by electric hoist and wire rope, running against the building facade while the suspension mechanism was erected on buildings or structures.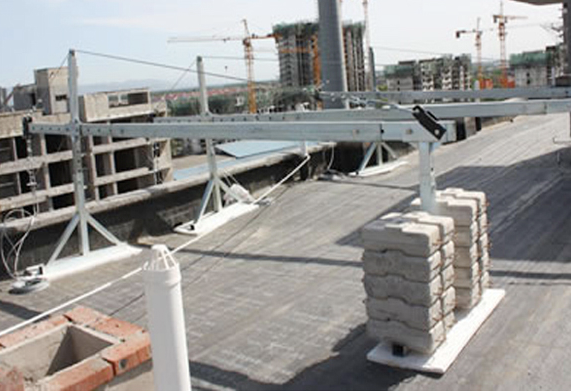 2. USEAGE AND APPLICATION:
ZLP series Suspended Platform belongs to high-rise working construction machinery, mainly used to install curtain wall, facade cleaning or other works such as plaster pulp, veneer, paint coatings,oil paint,or cleaning and maintenance, etc., can also be used for large tanks, bridges, dams and other construction operations.
Applying this product can release scaffold free, reduce the construction cost (cost 28% of traditional scaffolding)and the efficiency will be greatly increased. Mean while, this products are with simple and flexible operation, easy transfer, convenient and practical, safe and reliable.
3. STANDARD PARAMETER FOR SUSPENDED PLATFORM
Name

Technical parameter

Model

ZLP800

ZLP630

Rated load

800Kg

630Kg

Lifting speed

8-10m/min

8-10m/min

Platform Dimension L×W×H(mm)

7500(2.5m*3)×720×1300

6000(1+2+3m)×720×1300

Lifting Height

100 m

100 m

Cable

100 m

100 m

Steel rope  (specially-made)

9.1mm

8.3mm

Hoist

Pulling power

7.84KN

6.17KN

electric motor

model

YEJ100L-4

YEJ90L-4

Power

1.8KW*2

1.5KW*2

Voltage

380V 50Hz

380V 50Hz

Rotational speed

1420rpm

1420rpm

Braking moment

15Nm

15Nm

Safety lock
Permission force of impact

30KN

30KN

Locking Cable Angle

3°~8°

3°~8°

Suspension mechanism

(Hot Galvanized )

Front beam overhang

1.3~1.5m

1.3~1.5m

Support adjustable height

1.44~2.14m

1.44~2.14m

Counterweight

1000kg

1000kg

20'ft container

8sets

9sets

40'ft container

13sets

14sets
4. STRUCTURE OF SUSPENDED PLATFORMS
Five main structure: (1) Platform (2) Hoist Assembly (3) Safety Device (4) Electric System (5) Suspension Mechanism
(1)PLATFORM
Frame platform assembled by Steel (Aluminum) panels and bolts, used for carry workers and construction tools.
Jiuhong platform have Aluminum,Steel with Plastic coating fihish, Steel with Hot dip galvanized finish three kinds for choose.
1 Features for Aluminum platform:
No need painting or galvanizing on surface;
Oxygen membrane on the surface, rust-proof, anti-corrosion.
Light weight, 65% lighter than the same model of steel one.
Load efficiency increased, anti-subversion ability improved.
Easy to install& operate.
Good look, with bright silver gray color
2 Features for Steel platform with Plastic coating finish:
Plastic painting on platform surface, anti corrosion.
With competitive price compared with the aluminum and hot-galvanized surface.
3 Hot dip galvanized steel platform.
With good outlook;
Anti corrosion.
Lower price than Aluminum platform
Facade Cleaning Suspended Platform/Suspended Gondola/Working Platform
Advantages:
Platform length varies from 1 m, 1.5 m, 2 m, 2.5 m, to 3 m range. Customers can assemble them free as required.
End frame: the first factory adopts raglan welding treatment. Secure, greatly enhancing the strength and safety of the platform.
Embossing bottom plate width is 720mm, flat shape, easy for installation.
360 caster wheels are under bottom, facilitate moving the platform.
Erected on the building roof, composed of two independent steel frame and steel wire rope components. Each front beam of the steel frame hang two wire ropes, a work rope for hoist, a safety rope for safety lock.
Advantages:
Wire rope: hot-galvanized, special use for suspended platform, high strength, good corrosion resistance, Fasten brand.
Front and rear beam specification 50 * 110mm, thickness: 3.75mm; Middle beam 60 * 120mm, thickness: 2.75mm. The rectangular steel is with higher tensile resistance than the square steel.
Suspension Mechanism height: could reach as high as 1.98m.
Adjustable total length of the front/middle/rear beam is from 5.2 to 8 m, suitable for varies kinds of complex floors.
Suspension Mechanism parts adopts galvanized treatment, with higher corrosion resistance than the painting treatment.
Each end of the platform install one hoist.
The outer housing of hoist is die casting aluminum(104# Gb) material, not easy to crack. Rope pressure sheave is made of spring steel; turbine is made of 94# tin bronze. All above materials except turbines, are with heat and black oxide treatment.
Features:
LTD series new type repairable hoist is a latest product researched and developed by our company after kinds of test. It was proved can be self repair from the wire rope's force-deformation, bending, breaking and continue to use. This feature make it greatly increased the wire rope's working life.
(3) SAFETY DEVICE
Safety lock and safety wire rope: Each end of platform install one safety lock and safety wire rope. In case the work wire rope or platform tilted, the safe wire rope would be locked to stop platform moving.
Safety rope (life line): 18mm diameter,is made from high strength filament,connect with worker. When the platform rapid decline due to a fault, the Safety Rope would tighted to prevent people falling.
Limit Flanges: prevent platform upwardreach the highest level;
Hoist brake electromagnetic brake:keep the platform suspended in the circuit failure or power outage.
Centrifugal speed limiting device:ensure the platform descended speed no higher than 1.5 times of the rated lifting speed, keeping the platform more stable.
Manual hoist downhill device:in case of power failure or electrical failure, operate the manual to make platform decend, and keep workers'safe landing.
Electrical emergency stop: press button, main power and control power off, stop platform moving.
(4) ELECTRIC SYSTEM
Include cables and transformers, leakage protection and other control switches in electrical control box.
Control panel: according to customer needs, could be Chinese, English, Russian, and other languages.
Socket: meet European standards, American Standard and other standards.
Cable: 3x2.5 ² +2 x1.5 ² GB standard cable plus steelcore, with greater tensile strength, longer service life.
Electric cabinet of Cradle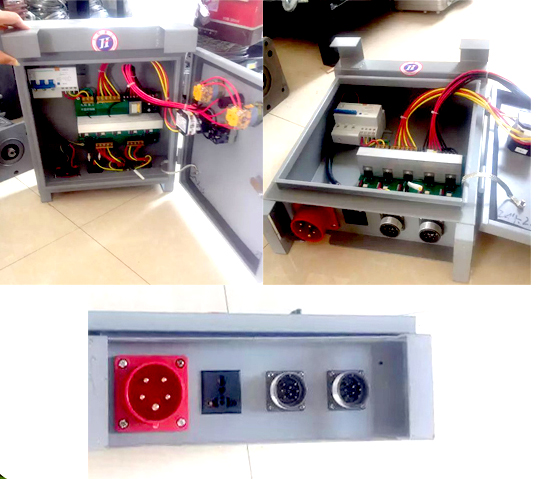 rope suspended platform safety
,
suspended platform gondola
,
suspended scaffold platform
,
suspended wire rope platform
,
suspended working platform safety
,
zlp 630 suspended platform