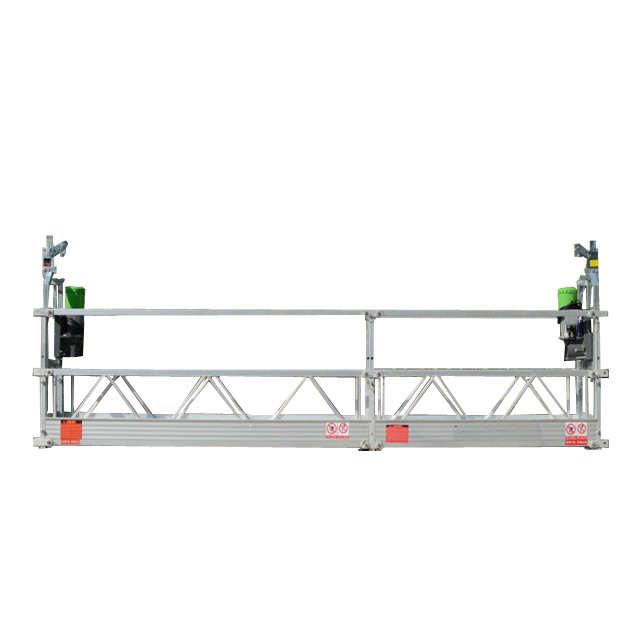 Detailed Product Description
Color: Yellow, Orange, Red, Silver (can Be Customized)
Rated Load: 500kg,630kg,800kg,1000kg
Size Of Platform: 5000/6000/7500mm X 690mm X 1300mm
Brake Torque: 16
Diameter Of Steel Rope: 8.3mm / 8.6mm
Motor Power: 2 X 1.5kw/1.8kw /2.2kw
Voltage: 220V/380V/415V, 50/60HZ
Counter Weight: Concrete, Concrete With Steel Cover, Iron-casting
220v / 60Hz Single Phase Rope Suspended Platform ZLP500 ZLP630 ZLP800 ZLP1000
Descriptions:
Shandong Haoke Machinery Equipment Co., Ltd. is one high-tech enterprise engaged in manufacturing,
marketing & technical service of Electrical Suspended Platform, Construction Material Hoist, Construction
Elevator, Tower Crane, B.M.U Gondola, Self-propelled Jack Gantry Lift, and other construction equipment.
HAOKE pay great qualified by ISO 9001 and our products are CE certified.
Applications:
1. Highrise building: Decoration,construction for external wall,installation of curtain wall and external
components,
repairing, checking,maintenance and cleaning for external wall;
2. Large-scale project: construction,repairing and maintenance for large tank, chimney, dams, bridges,
derrick.
3. Large ships: welding, cleaning and painting.
4. billboard: installation billboard for high-rise building.
Technical Parameters:
Model
ZLP 500
ZLP630
ZLP800
ZLP1000
Appearance
Painting / Hot galvanized
Fabrication material
Steel/ Aluminum alloy
Rated load
500 kg
630kg
800kg
1000kg
Lifting speed
9~11m/min
9~11m/min
8~10m/min
8~10m/min
Motor power
2×1.5kw
2×1.5kw
2×1.8kw
2×2.2kw
Brake torque
16 km
16 km
16 km
16 km
Steel rope angle adjusting range
3°~8°
3°~8°
3°~8°
3°~8°
Distance between two steel rope
≤ 100mm
≤ 100mm
≤ 100mm
≤ 100mm
Counterweight (optional)
25kg×30pcs
25kg×36pcs
25kg×40pcs
25kg×44pcs
Diameter of steel rope
8.3mm
8.3mm
8.6/9.1mm
9.1mm
Max Lifting height(m)
300m
300m
300m
300m
Motor rotation speed
1420 r/min
1420 r/min
1420 r/min
1420 r/min
Voltage (3PHASES) (optional)
220V/380V/415V 50Hz/60Hz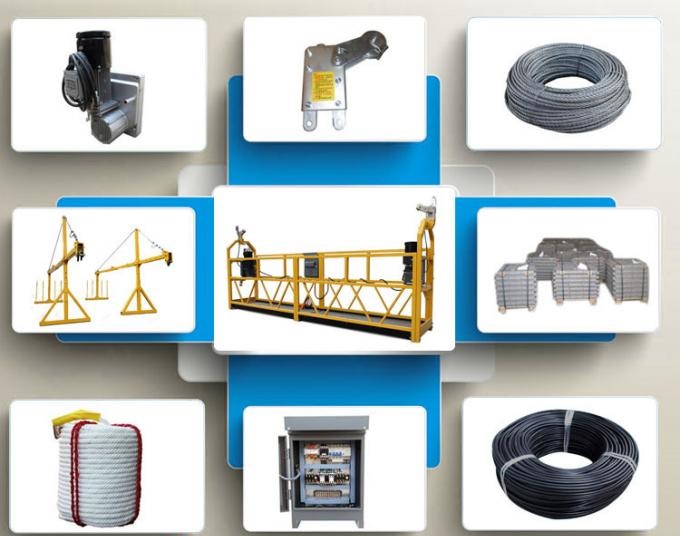 1. Platform(basket): Steel or Aluminum Alloy (painted or hot galvanized)
2. Suspension Mechanism: Steel (painted or hot galvanized)
3. Electric hoists:LTD6.3, LTD8.0, LTD10.0
4. Safety Lock: LS30
5. Electric control box: Along with hoists
6. Steel wire rope: 8.3mm ,8.6mm or 9.1mm
7. Safety rope: 18mm,20mm
8. Electric cable: 3*2.5+2*1.5
9. Counterweights: Cement, cement with steel cover & Iron casting counterweight
10. Wheels both under suspension mechanism & platform available;
11. Platform: We can meet your requirements on different length, such as 2m,3m,4m,6m,7.5m....12m
maximum.
12. Lifting height: 300m maximum.
zlp 800 suspended platform