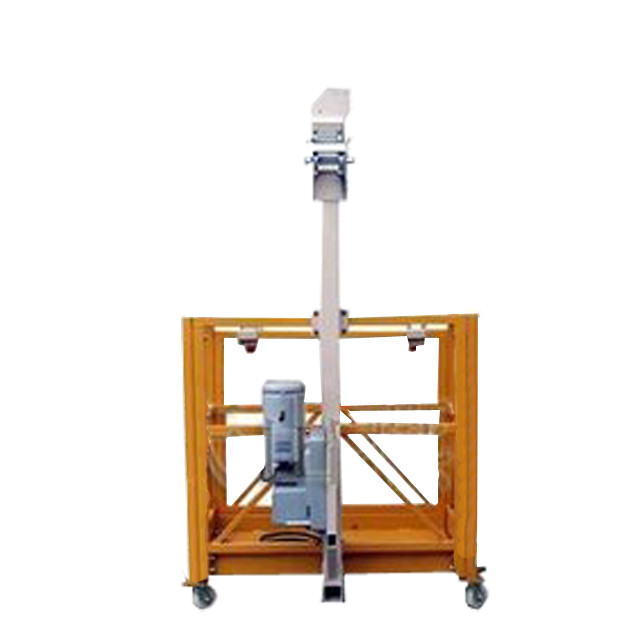 Quick Detail:
---
1. Model No.: ZLP100
2. Brand Name: HAOKE
3. Material: Steel / Aluminum
4. Appearance: Steel / Hot Galvanized / Aluminum
5. Capacity Loading: 100 KG
6. Lifting Height: Maximum 300 Mts
7. Counterweight: Concrete, Concrete with steel cover, Iron
Applications:
---
1. Cleaning and maintaining of the exterior wall of high-rise building.
2. Painting, decoration and refurbishing of exterior walls.
3. Installation projects and other construction working of outer walls of high-rise building.
4. Aerial working of ship, large tower, bridge, dams and large chimneys.
5. Install and maintain for high-rise building elevator hoistway, shipbuilding industry, seagoing vessel, warships welding maintenance.
Technical Parameters:
---
Loading Capacity: 100kg
Lifting Speed: 9.6m/min
Size: 1000 x 690 x 1300mm (L X W X H)
Power: 1 x 1.5kw
Brake Torque: 15Nm
Steel rope angle adjusting range(°): 3°- 8°
Distance between two steel rope(mm): ≤100
Rated stretch of front beam(mm): 1500mm
Counterweight: 25kg x 30pcs
Diameter of steel rope(mm): 8.3mm
Max Lifting height(m): 300
Motor rotation speed(r/min): 1420
Voltage: 380V/220V/415V, 50HZ/60HZ, Single Phase / Three Phases
Competitive advantages:
---
1. Absolutely guarantee life safety during Aerial working
Safety lock fasten the steel rope immediately once the suspended platform tilts or the steel rope slips out of the hoist;Electric control system is designed with leakage protection, over-heat protection, current overload protection and brake stop;
Good-quality steel wire rope, safety rope and cable.
2. Stable performance: raise up and lower down smoothly
3. Modular design. Easy to disassemble, assemble operate and maintain.
4. Lifting height can be adjusted according to requirement (Maximum 300 Meters)
5. Working voltage and frequency can be adjusted (220V/380V/415V etc.)
6. Suspended platform for special usage can be customized (circular, L shape, U shape, etc)
7. Professional quality, competitive price, fast delivery, good services.
Detailed Product Description
---
Motor Power: 2 X 1.5kw, 50/60Hz
Material: Steel / Aluminum Alloy
Lifting Speed: 9.6 M/min
Diameter Of Steel Rope: 8.3mm
Appearance: Steel / Hot Galvanized / Aluminum Alloy Motor Rotation
Speed: 1420 R/min