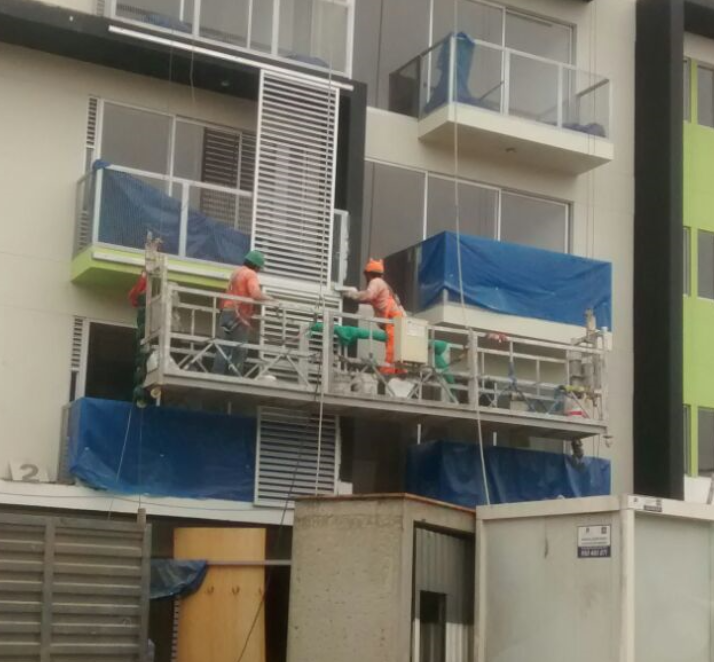 Basic Info
Model NO.: many kinds
Erection Position: External Scaffolding
Move Method: Attached Lifting Scaffolding
Scaffolding Part Type: Scaffolding Planks
Construction Properties: Building Scaffold
Rated Load: 100-1000kg
Trademark: STRONG Transport Package: Wooden Case
Specification: ZLP500~1000
Origin: Shanghai HS
Code: 84313900
Product Description
we can make the platform according to your special requirement
Product Description:
Suspended working platform is an ideal equipment for facade construction, decoration, cleaning and maintenance, and is also widely used in elevator installation, shipyard, big tank, bridge, embankment and chimney. It provides safer, easier and more efficient platform access For more details please contact us.
ZLP series hoist suspended platform / swing stage
1. General Introduction for Suspended platform:
ZLP series Suspended Platform is a substitute of traditional scaffold , it
belongs to electrical-driven climbing and decorating machinery.
2. Structure for Suspended Platform:
It assembled by mudular platforms, hoist, safety lock, electrical control
box, wire rope, cable, safety rope and lock assembly, suspension mechanism, counter
weight, heavy hammer, caster wheel, wall roller etc.
3. Application for Suspended Platform:
It mainly used to maintain and clean the external walls of high-rise buildings and
exterior construction such as cement coating, veneer, paints, installing the glass
curtain walls, painting as well as cleaning and maintainence. Also can be applied to
the operating of big vessels and bridges dams etc.
4. Safety devices for Suspended Platform:
Safety lock, top limit switch, emergency manual descent,speed reducer and safety rope.
5. Electric Suspended Platform VS Scaffolding:
Applying the suspended platform can reduce the construction cost and the efficiency will be greatly increase. Meanwhile, the suspended platform is simple, safe, easy transfer and operation.
6. Detail parameter for Liput Regular Suspended Platform
Property         Model No.
ZLP500
ZLP630
ZLP800
ZLP1000
Rated load( kg )
500
630
800
1000
Lifting speed( m/min )
9~ 11
9~ 11
8~ 10
8~10
Motor power( kw )
2× 1.5   50HZ/60HZ
2× 1.5   50HZ/60HZ
2× 1.8   50HZ/60HZ
2× 3
50HZ/60HZ
Brake torque( Km )
16
16
16
16
Steel rope angle adjusting range(° )
3° -  8 °
3° -  8 °
3° -  8 °
3° -  8 °
Distance between two steel rope( mm )
≤ 100
≤ 100
≤ 100
≤ 100
Rated stretch of front beam( mm )
1500
1500
1500
1500
Suspending platform
Locking
Aluminum alloy
Aluminum alloy
Aluminum alloy
Aluminum alloy
Nr.Of platform rack
Single rack
Single rack
Single rack
Single rack
Nr.Of platform
2
3
3
3
L× W × H ( mm )
(2000× 2) × 690 × 1180
(2000× 3) × 690 × 1180
(2500× 3) × 690 × 1180
(2500× 3) × 690 × 1180
Weight( kg )
350 Kg
375 Kg
410 Kg
455kg
Suspending mechanism(kg)
2× 175 Kg
2× 175 Kg
2× 175 Kg
2× 175 Kg
Counterweight(kg) optional
25× 30pcs
25× 36pcs
25× 40pcs
25× 44pcs
Diameter of steel rope(mm)
8.3
8.3
8.6
8.6
Max Lifting height(m)
300
300
300
300
Motor rotation speed(r/min)
1420
1420
1420
1420
Voltage(v) 3PHASES
220V/380V/415V
220V/380V/415V
220V/380V/415V
220V/380V/415V
rope suspended platform safety
,
suspended platform hoist
,
suspended scaffold platform
,
suspended wire rope platform
,
suspended working platform safety