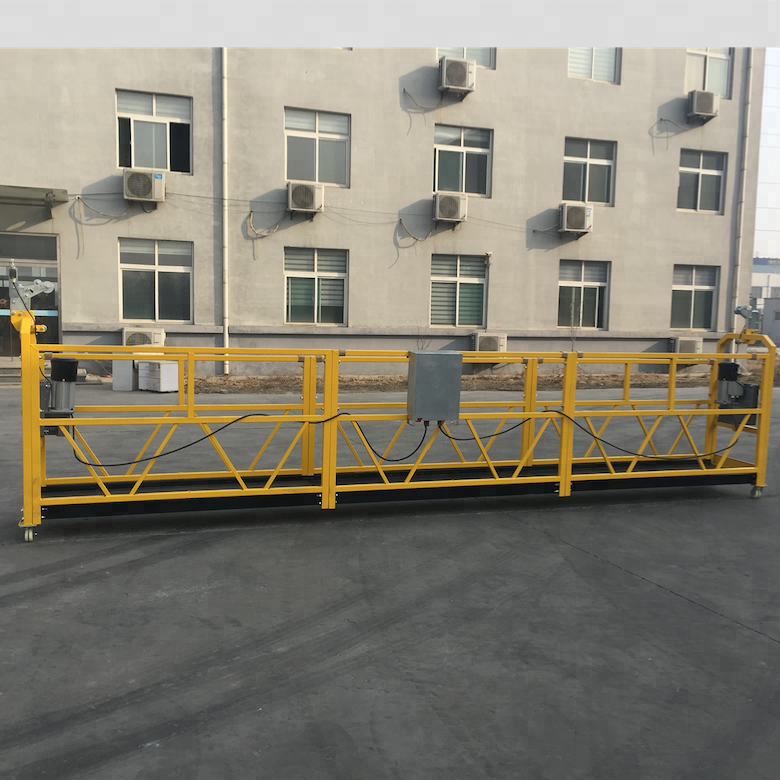 Basic Info
Model NO.: ZLP630
Anchoring Options: Suspension Jibs
Platform Mounting: Screw Type
Certificate: ISO9001:2008/Ce/TUV
Transport Package: Cardboard Box+Plywood Pallet+Plywood Case
Specification: ZLP630
Origin: Shanghai, China
Code: 8428909090
ZLP series are for temporary applications for lifting people and their working equipment - at unlimited heights.
The model perfectly suited to lightweight applications such as painting and decorating, refurbishing, jointing and repairs, windows cleaning etc. The complete system consists of the working platform equipped with two electric LTD hoists and the support wheels, suspended by means of steel wire ropes from a suspension structure.
Safety systems
To ensure safe operation without danger to personnel, the platform is fitted with the following safety devices:
1. Service brake incorporated in the LTD hoist.
2. Two fall arrest devices acting on the safety wire ropes.
3. Two upper limit switches.
4. No power descent in case of power failure.
5. Emergency stop.
6. Phase controller. (Option)
7. Overload sensor incorporated in the LTD hoists according to EN 1808. (Option)
The parameters of ZLP series suspended platform
Tpye
ZLP500
ZLP630
ZLP800
ZLP1000
Rated Load
500kg
630kg
800kg
1000kg
Lifting speed
9m/min
9m/min
9m/min
8.7m/min
Voltage-3phase
380V(415V/220V)
380V(415V/220V)
380V(415V/220V)
380V(415V/220V)
Frequency
50Hz/60Hz
50Hz/60Hz
50Hz/60Hz
50Hz/60Hz
Power
1.1×2
1.5×2
1.8×2
2.0×2
Hoist
LTD50
LTD63
LTD80
LTD100
Safety lock
LSF308
LSF308
LSF309
LSF310
Dia.of Wire Rope
4×31SW+FC-8.3mm
4×31SW+FC-8.3mm
4×31SW+FC-9.1mm
4×31SW+FC-10.2mm
Platform Size  (L×W×H)
(2.5×2)×0.76×1.45M
(2×3)×0.76×1.45M
(2.5×3)×0.76×1.45M
(2.5×3)×0.76×1.45M
Weight of Suspended Jibs
340kg
340kg
340kg
340kg
Weight of Lifting Part
410kg(Steel)
290kg(Aluminum)
450kg(Steel)
310kg(Aluminum)
520kg(Steel)
340kg(Aluminum)
520kg(Steel)
340kg(Aluminum)
Counter Weight
800kgs
900kgs
1000kgs
1200kgs
20GP Qty Of Package
10Sets
10Sets
9Sets
9Sets
*The weight of lifting part includes platform,hoist,safety locks and electric control system.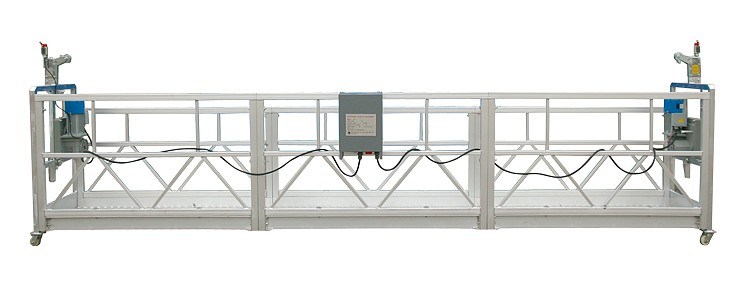 suspended personnel platform
,
suspended platform gondola
,
temporary suspended platform