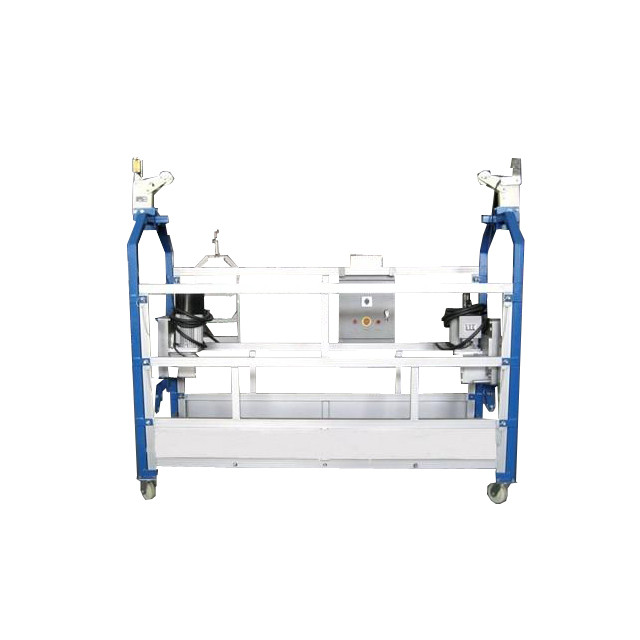 ZLP Series L Stirrup Suspended Working Platform , ZLP800 7.5m 800kg Electric Suspended Rope Platform
---
L Stirrup Suspended Platform Fetures:
1.Convenient and fast installation, simple operation.
2.Multiple safety precautions ensure the suspended platform is reliable and secure.
3.All structural components are available in hot galvanized, steel painted and aluminum type.
4.Using the suspended platform can reduce labor intensity, enhance efficiency and reduce the construction cost by 70%.
5.Refined technological structure, safe and reliable mechanical properties.
6.Suspended platform can move up and down easily. It can be locked automatically when manual operation stops.
Property Model No.
ZLP250
ZLP500
ZLP630
ZLP800
ZLP1000

Rated load(kg)

250

500

630

800

1000

Lifting speed(m/min)

9~11

9~11

9~11

8~10

8~10

Motor power(kw)

1×1.5 50HZ/60HZ

2×1.5

50HZ/60HZ

2×1.5 50

HZ/60HZ

2×1.8 50

HZ/60HZ

2×2.2

50HZ/60HZ

Brake torque(Km)

16

16

16

16

16

Steel rope angle adjusting range(°)

3°- 8°

3°- 8°

3°- 8°

3°- 8°

3°- 8°

Distance between two steel rope(mm)

≤100

≤100

≤100

≤100

≤100

Rated stretch of front beam(mm)

1500

1500

1500

1500

1500

Suspending platform

Locking

Aluminum alloy

Aluminum alloy

Aluminum alloy

Aluminum alloy

Aluminum alloy

Nr.Of platform rack

Single rack

Single rack

Single rack

Single rack

Single rack

Nr.Of platform

1

2

3

3

3

L×W×H(mm)

1200×690×1300

(2500×2)×690×1300

(2000×3)×690×1300

(2500×3)×690×1300

(2500×3)×690×1300

Weight(kg)

84 Kg

350 Kg

375 Kg

410 Kg

455kg

Suspending mechanism(kg)

175 Kg

2×175 Kg

2×175 Kg

2×175 Kg

2×175 Kg

Counterweight(kg)

optional

25*20pcs

25×30pcs

25×36pcs

25×40pcs

25×44pcs

Diameter of steel rope(mm)

8.3

8.3

8.3

8.6 / 9.1

8.6 / 9.1

Max Lifting height(m)

300

300

300

300

300

Motor rotation speed(r/min)

1420

1420

1420

1420

1420

Voltage(v) 3PHASES

220V/380V/

415V

220V/380V/

415V

220V/380V/

415V

220V/380V/

415V

220V/380V/

415V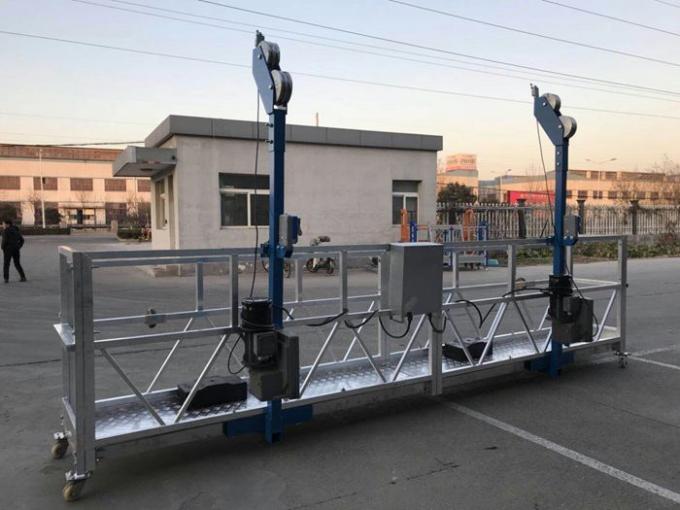 suspended working platform safety