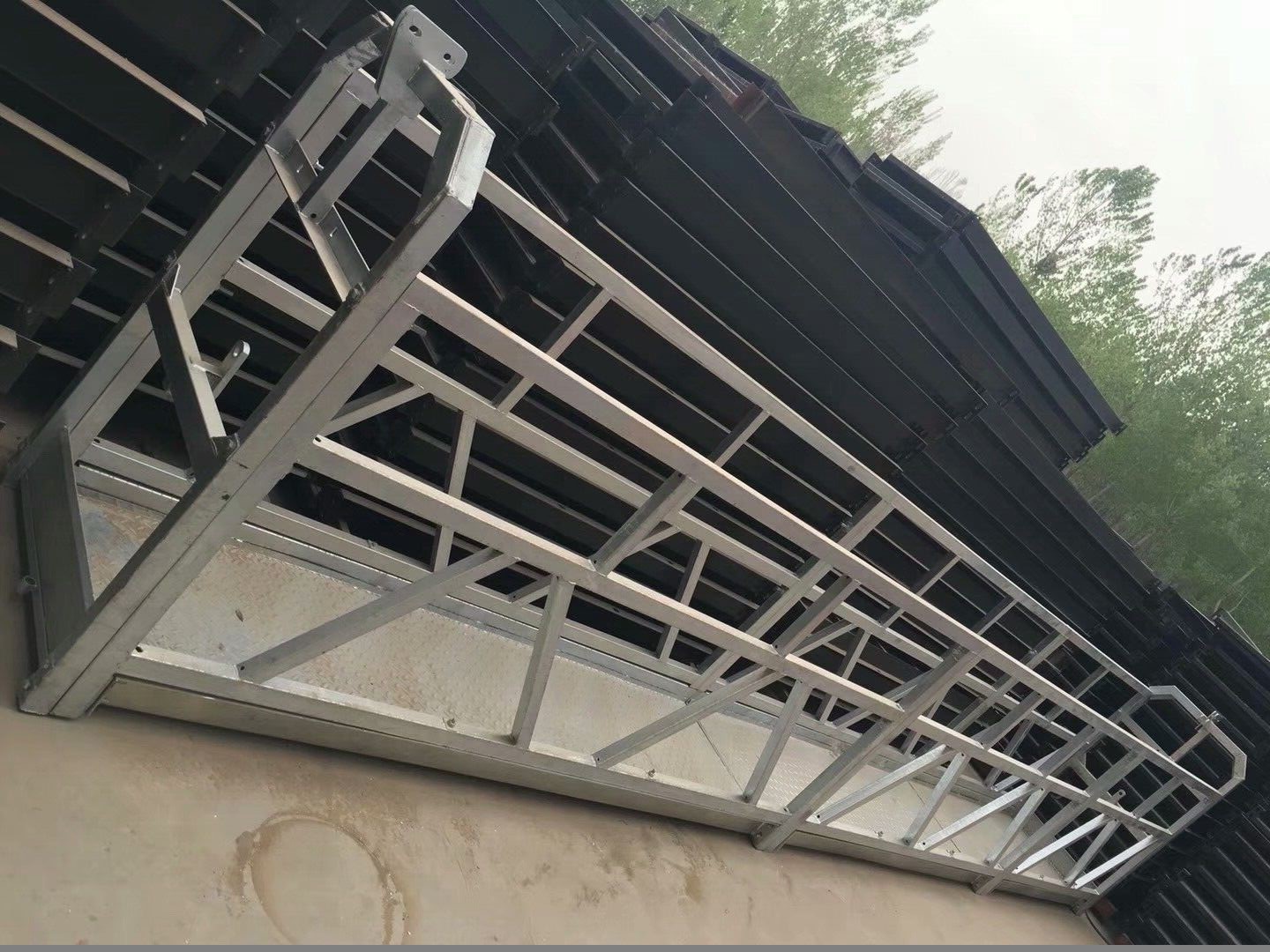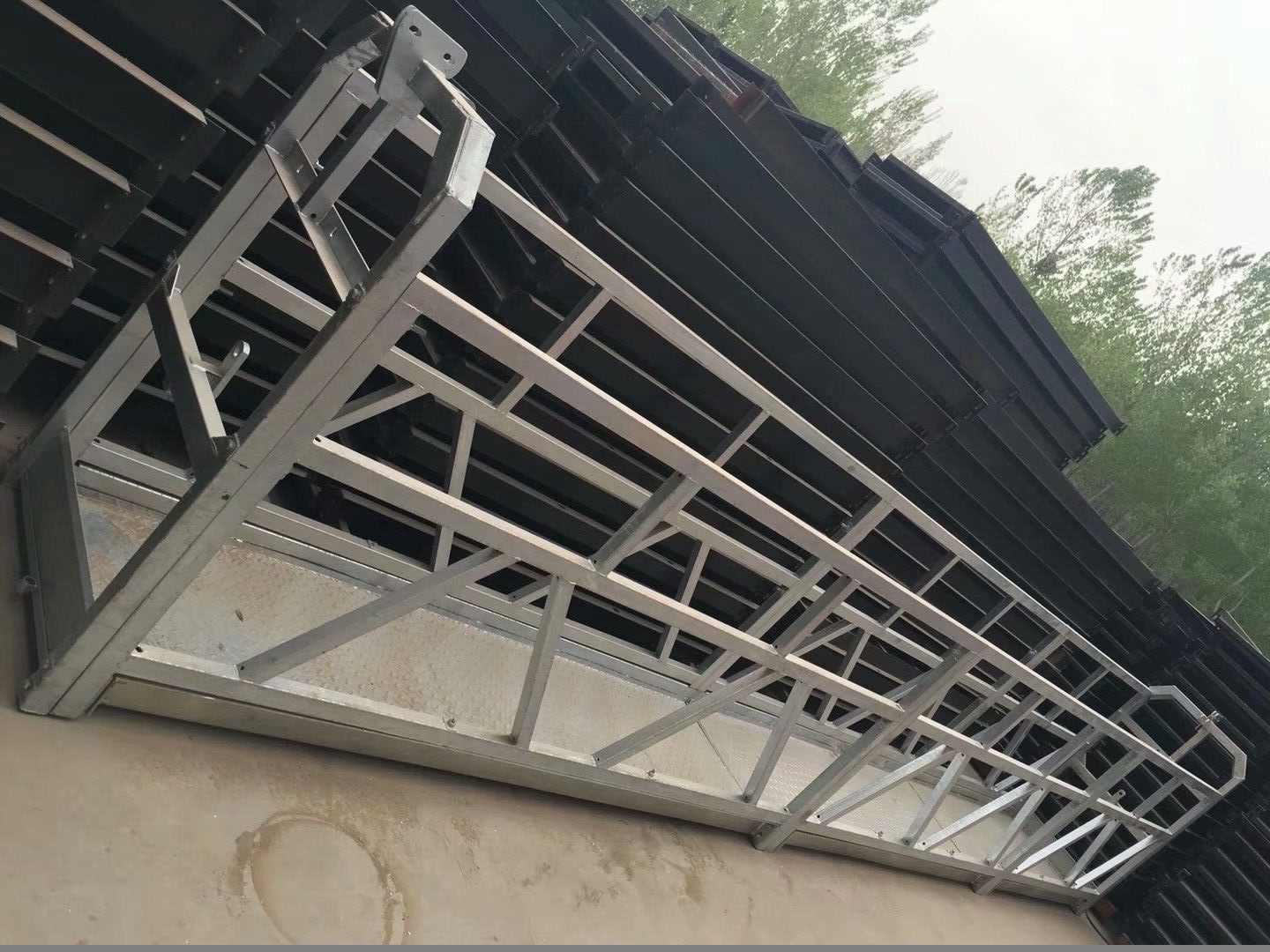 specification
---
with hanging device rope suspended platform HS:84289090
Arc-shaped builing suspended platform can be devided into two kinds of specifications,ZLP630 and ZLP800.
Working Principle:
Tt is driven by electric hoist and wire rope, running against the building facade while the suspension mechanism was erected on buildings or structures.
 Model for with hanging device rope suspended platform
ZLP630
ZLP800
Suspended Platform
1m,2m,3m,1.5m,2.5m
to the length made.
In any Combination
Rated Load
630KG
800KG
Rated Lifting Speed
9.3±0.5m/min
8.2±0.5m/min
Length of Platform
6000mm
7500mm
Surface Proceeding
Aluminum;steel materials(Galvanized,Spraying)
Lifting Height
100m
100m
Cable
100m
100m
Max Lifting Height
200m
200m
Steel Rope
8.3mm
9.1mm
Hoist
Power
1.5KW*2
1.8KW*2
Voltage
380V, 50HZ, Three-Phase(standard)
Safety Lock
Permission Force of Impact
30KN
30KN
Locking Cable Angle
3°~ 8°
3°~ 8°
Suspension Mechanism
Front Beam Overhang
1.3 ~ 1.5m ±0.26
1.3 ~ 1.5m ±0.26
Support Adjustable Height
  1.44 ~ 2.14m ±0.26
  1.44 ~ 2.14m ±0.26
Counter Weight
1000KG
1000KG
20' GP Container
9sets
8sets
40' GP Container
12sets
12sets
40'HQ Container
27sets(without couter weight)
Frame platform assembled by Steel (Aluminum) panels and bolts, used for carry workers and construction tools.platform have Aluminum,Steel with Plastic coating fihish, Steel with Hot dip galvanized finish three kinds for choose.
1 Features for Aluminum platform:
No need painting or galvanizing on surface;
Oxygen membrane on the surface, rust-proof, anti-corrosion.
Light weight, 65% lighter than the same model of steel one.
Load effiency increased, anti-subversion ability improved.
Easy to install& operate.
Good look, with bright silver gray color
2 Features for Steel platform with Plastic coating finish:
Plastic painting on platform surface, anticorrosion.
With comptitive price compared with the aluminum and hot-galvanized surface.
3 Hot dip galvanized steel platform.
With good ourlook;
Anti corrosion.
Lower price than Aluminum platform.
Advantages:
Platform length varies from 1 m, 1.5 m, 2 m, 2.5 m, to 3 m range. Customers can assemble them free as required.
End frame: the first factory adopts raglan welding treatment. Secure, greatly enhancing the strength and safety of the platform.
Embossing bottom plate width is 720mm, flat shape, easy for installation.
360 caster wheels are under bottom, facilitate moving the platform.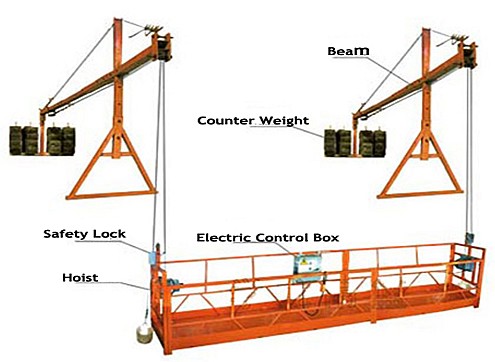 configuration
---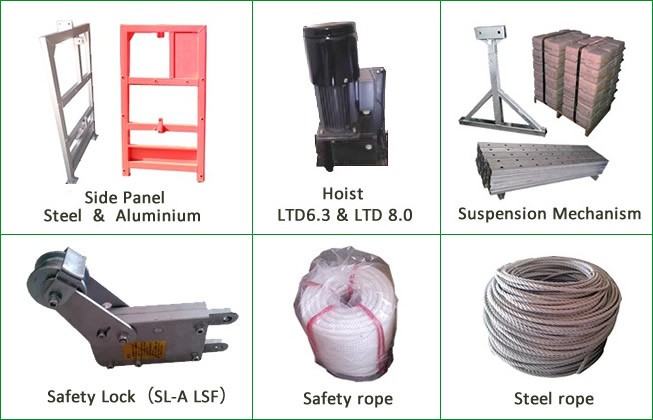 Include cables and transformers, leakage protection and other control switches in electrical control box.
Control panel: according to customer needs, could be Chinese, English, Russian, and other languages.
Socket: meet European standards, American Standard and other standards.
Cable: 3x2.5 ² +2 x1.5 ² GB standard cable plus steelcore, with greater tensile strength, longer service life.

safety devices
---
1.Safety lock and safety wire rope: Each end of platform install one safety lock and safety wire rope. In case the work wire rope or platform tilted, the safe wire rope would be locked to stop platform moving.
2.Safety rope (life line): 18mm diameter,is made from high strength filament,connect with worker. When the platform rapid decline due to a fault, the Safety Rope would tighted to prevent people falling.
3.Limit Flanges: prevent platform upwardreach the highest level;
4.Hoist brake electromagnetic brake:keep the platformsuspended in the circuit failure or power outage.
5.Centrifugal speed limiting device:ensurethe platform descendedspeed no higher than 1.5 times of the rated lifting speed, keeping the platform more stable.
6.Manual hoist downhill device:in case of power failure or electrical failure, operate the manual to make platform decend, and keep workers'safe landing.
7.Electrical emergency stop: press button, main power and control power off, stop platform moving.
packing
---
1. Hoist, safety lock, electrical control box, standard components and installation tools, which are packed by plywood and carton,other accessories are packed by steel strip and are delivered by container.
2.Generally, 20ft container could contains 8 sets platform,and 40ft container could contains 12 sets(it may has slight difference according to products' configuration,we will offer detailed packing list and packing diagram based on your purchase.
application
---
Arc-shaped builing suspended platform is widely used elevator installing,ship building and repairing,or in other work such as big-size tank,bridge,embankment and chimney.ZLP series versatile knock-down platform provide workers safer easier and more efficient platform access.
Applying can release scaffold free,reduce the construction cost and the efficiency will be greatly increased.Mean while,the production is simple flexible,easy transfer,easy to operate,safe and reliable.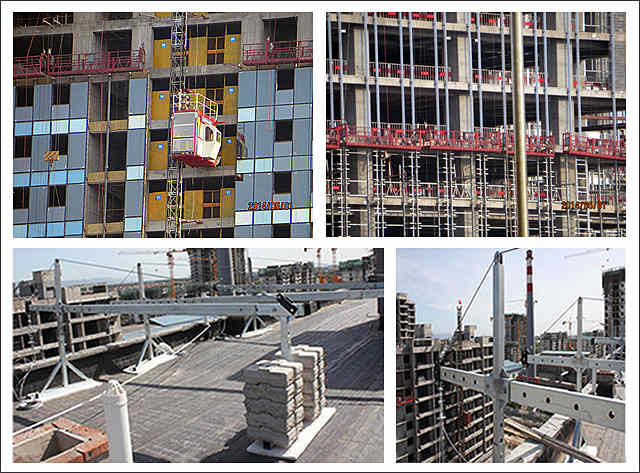 Quick Details
---
Place of Origin: shanghai, China (Mainland)
Brand Name:SUCCESS
Model Number: ZLP
Name: Arc-shaped builing suspended platform
Rated Load: 630kg/800kg
Rated Lifting Speed: 8.6±0.5m/min
Length of platform: 6000mm
Width of platform: 690mm(Optional)
Height of platform: 1160mm(Optional)
Surface Proceeding: Cold/Hot-dip Galvanized,Spraying,Aluminum
Hoist power: 2 x 1.5/2 x 1.8kw
Voltage: 380V, 50HZ, Three-Phase ZLP800 building cleaning gondola
Counter weight: 1000kg
zlp 630 suspended platform
,
zlp 800 suspended platform